National Central University (NCU)
Physics Department and Center for High Energy and High Field
國立中央大學
About National Central University
National Central University (NCU) is one of the leading universities in Taiwan. NCU is located in Zhongli, Taiwan. With total approximately 12000 students, there are 8 colleges, 25 departments, 20 graduate institutes, and 8 university level research centers in the university. It is a comprehensive university of rich scientific and humanistic facilities.
Through the effort of our former president, acdemician Liu Chao-Han (劉兆漢院士), NCU established the first High Energy Experiment research group in Taiwan. Dr. Liu, and his successors, including Dr. Chuan Liu (劉全生), Dr. Lou Lee (李羅權), Dr. Wei-Ling Chiang (蔣偉寧) and the current president Dr. Jou Jing-Yang, all provided very strong support to the High Energy group, which is now one of the three major research teams in Taiwan in this field. The team has 4 faculty members and ~20 postdocs and students. We involved in major experiments including L3 and AMS.
Hardware contribution to AMS from AS and NCU
Development of high-speed data link protocol "AMSWIRE"
A special high-speed communication protocol, AMSWIRE was developed to collect data in the AMS-02 DAQ system. AMSWIRE is a serial point-to-point link protocol. The master-slave concept is used in AMSWIRE as the data flow control. The data-strobe (DS) encoding method is used in AMSWIRE. The data values are transmitted directly. The strobe signal changes state whenever the data remains constant. Therefore, the link clock can be derived from data and strobe signals. The LVDS standard is used as the signaling technique. The data rate is 100 Mbps and fixed in both directions. Each AMSWIRE link port contains at least one transmitter (TX) and one receiver (RX). Each TX and RX has its own buffer which is equivalent to the maximum size of a data packet. TX is responsible for encoding and transmitting data using DS encoding. The special pattern is sent before any data characters to build the synchronization with RX. RX is responsible for decoding DS signals to produce characters. RX is required to be ready for receiving packet after power on. If any link error is detected, RX shall report it and be ready for receiving next packet. AMSWIRE was implemented in each level of DAQ modules in AMS-02 DAQ system.
Design and production of AMS-02 main data acquisition computer the "JMDC"
The Taiwan group together is responsible to build the AMS main data acquisition (DAQ) computer, JMDC. The existing space grade parts cannot meet the performance requirement of AMS-02. A solution of using commercial-off-the-shelf (COTS) parts was adopted. Each COTS part used in AMS-02 electronics was selected carefully by verifying its specification. Dedicated heavy-ion beam tests, held at GSI, Germany, were used to verify their performance under the radiation environment. A dedicated test board was built for each COTS part, including PowerPC 750 CPU.
JMDC consists of a single board computer (JSBC) with PowerPC 750 CPU, a 112 GB buffer board (JBU) with flash chips and various interface boards. There are four identical JMDCs in the AMS-02 detector to increase reliability. Each module of JMDC was carefully verified in each design stage (engineer model stage, qualification model stage and flight model stage). Various environmental tests were also performed to verify the performance of JMDC under the extreme space condition, including the thermal vacuum test. Figure 1 shows the flight modules of JMDC. A fully integrated four JMDC's in the crate, J-crate, is shown in Figure 2. In order to qualify the reliability of JMDC operation in space, it went through a serial of environmental tests and thermal vacuum tests. Figure 3 shows the preparation of J-crate in the thermal vacuum chamber of National Space Organization in Taiwan (http://www.nspo.narl.org.tw/en2016/).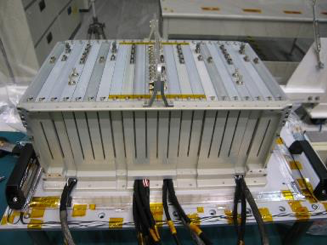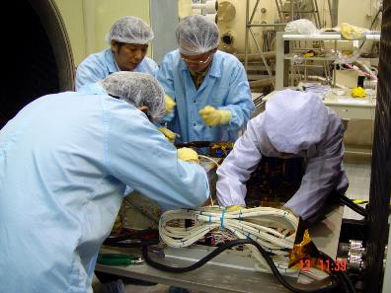 Design and production of AMS-02 trigger system
The purpose of AMS-02 trigger system is to trigger the front-end DAQ modules to collect detector signals according to fast and dedicated detector signals. The main requirements of AMS-02 trigger system are:
Produce trigger signals according to fast signals from the Time-of-Flight detector (TOF), the Anti-coincidence Veto Counter (ACC) and the Electromagnetic Calorimeter (ECAL).

Produce the fast trigger signal to the Time-of-Flight detector within 150 ns to have a good timing resolution in the time-of-flight measurement.

Keep the trigger rate below 2 KHz to meet the ISS power limit.

Flexibility of trigger logic and redundancy.
In order to meet these requirements, AMS-02 trigger system, designed by the Taiwan and MIT groups, is divided into two parts, JLV1 and JTBX. A backplane is used for the signals between JLV1 and JTBX. It is dual redundant, two JLV1s and one JTBX with two identical units. JLV1 is responsible for the decision of fast trigger and LV1 trigger according to information from TOF, ACC and ECAL detectors. It consists of three major units; A DSP unit based on ADSP 2187 and A54SXA FPGA is the AMSWIRE interfaces and trigger data handling unit. A trigger unit based on A54SXA FPGA is for the trigger logic implementation. A monitor unit based on A54SXA FPGA is used to monitor rates of input signals. The implementation of the trigger logic is flexible, which allows users to modify the trigger equations at any time and have up to five trigger equations. JTBX is used to fan out the LV1 trigger to front-end DAQ modules. The trigger modules were built and went through all environment tests. The flight model of trigger modules integrated in JT-crate is shown in Figure 4. The AMS-02 trigger system is working as designed in space.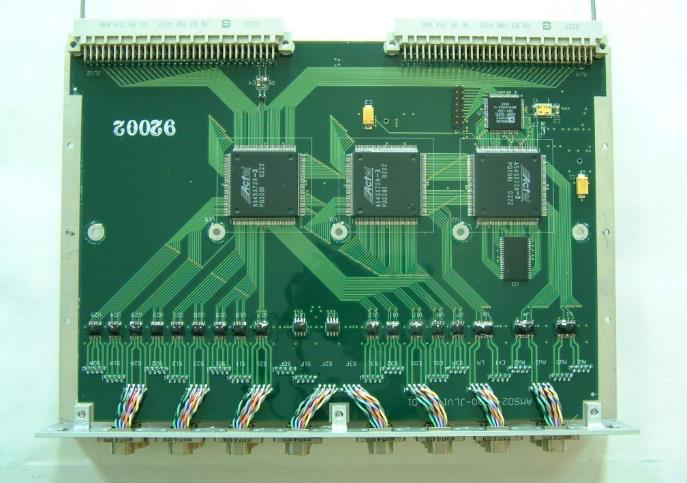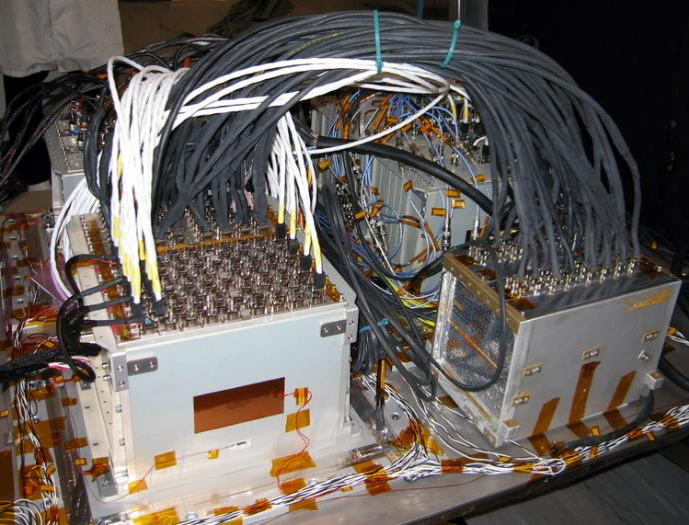 Manufacturing of AMS-02 electronics and mechanical components
The major fraction of AMS-02 electronics was produced at NCSIST with support from Academia Sinica and NCU. In order to ensure the production went smoothly, a procedure had been set for each step from the design file transfer to the environmental tests, which includes:
Incoming parts screening and storage.

PCB design documents and verification.

PCB design verification.

Module assembly procedure.

Environmental stress test procedure.
In total, there are more than 1000 AMS-02 electronics boards with their mechanical parts (front panel, stiffener and crate) produced in Taiwan. With the support of the Aerospace Industrial Development Corporation (AIDC), the Taiwan team also participated in the design and production of AMS-02 thermal hardware. Figure 5 shows a part of AMS electronics produced in NCSIST, Taiwan.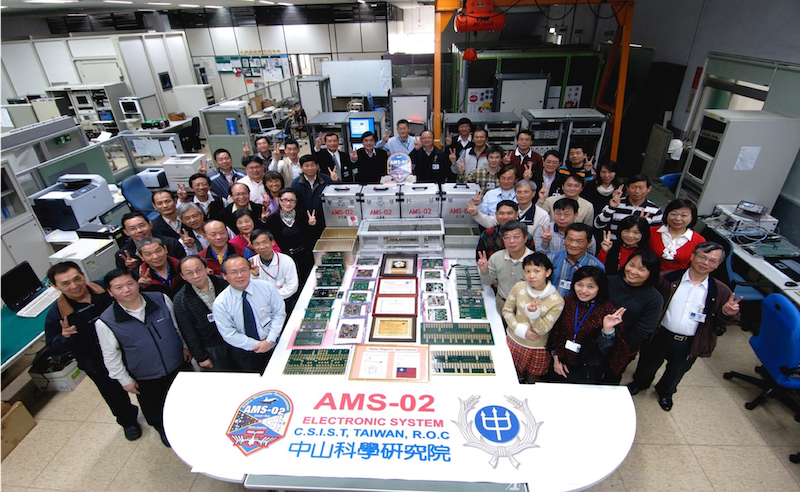 AMS-02 Asia payload operation center (POCC) in Taiwan
There were two AMS-02 payload operation centers constructed in Taiwan to share the operation load of AMS experiment since 2012. The major center is at NCSIST and the backup center is at NCU. More than 40% of shift duty are covered by POCCs in Taiwan. Figure 6 shows the opening ceremony of AMS Asia POCC at NCSIST with the presence of the formal Taiwan President Ying-jeou Ma, the NASA associate administrator for the Human Exploration and Operations Mission Directorate William H. Gerstenmaier and Professor Samuel C.C. Ting on July 3rd, 2012. Professor Haino introduced the AMS experiment to the formal Taiwan President Ma Ying-jeou during the Asia POCC opening ceremony (Figure 7). Figure 8 shows the formal Taiwan President Ying-jeou Ma and William H. Gerstenmaier, associate administrator for the Human Exploration and Operations Mission Directorate at NASA, visited the AMS-02 Asia payload operation center at NCSIST.
The data transfer between CERN POCC and ASIA POCCs shares 10 Gbit Ethernet between Academia Sinica Grid Computing Center (ASGC) and CERN. The network traffic between two POCCs are also monitored in real time to identity all possible data transfer and network problems.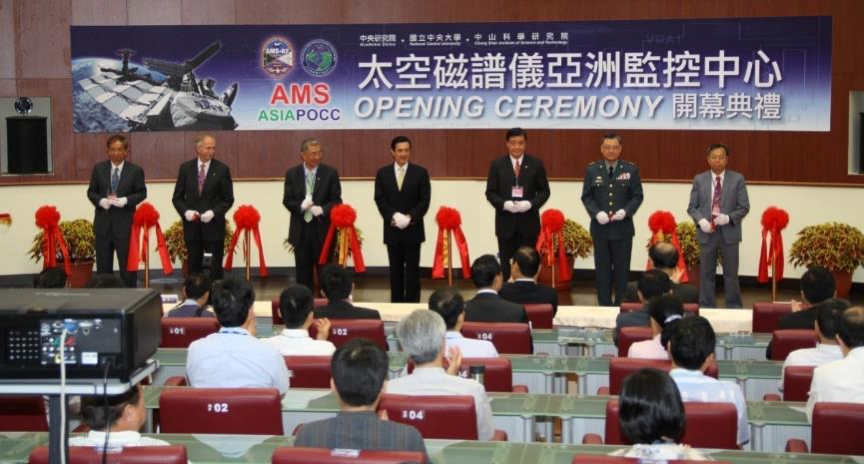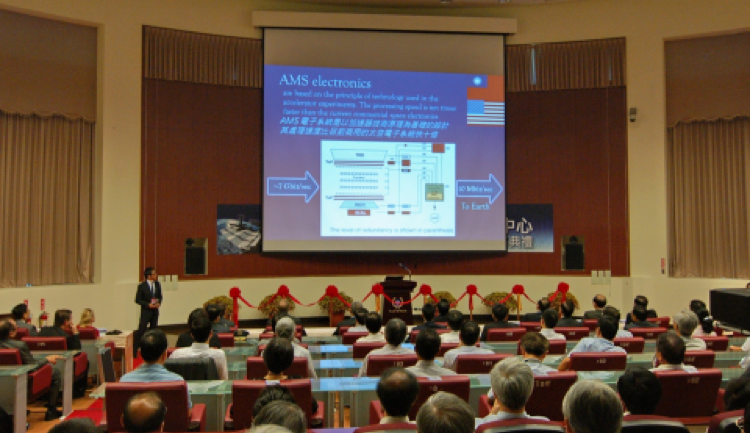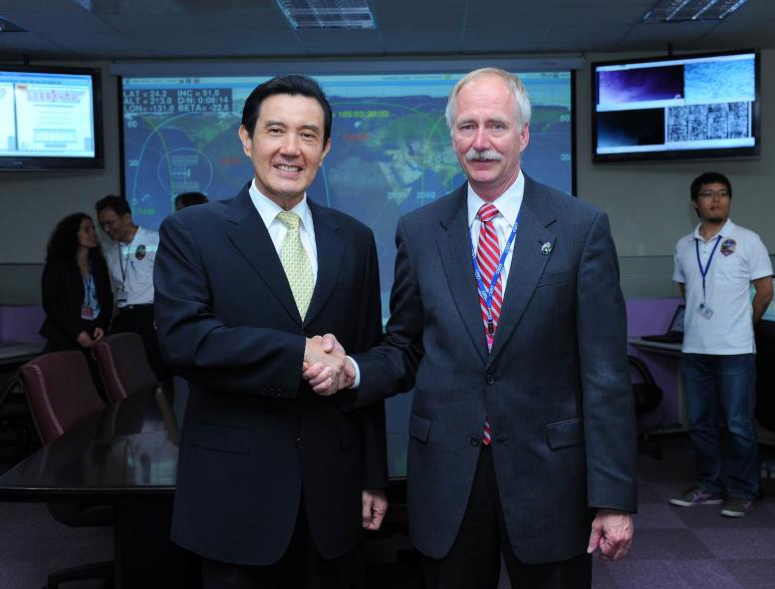 Applications of AMS experience in space electronics
Detector for proton therapy
An X-Y strip ionization detector, CROSS, has been designed with features of fast measuring rate, high accuracy, stability and easy installation. It meets all requirements of latest proton therapy technology, pencil beam scanning. Figure 9 shows the CROSS detector and its measurements with the proton beam scanning speed up to 20 mm/msec.

A space cloud computer, SG100 shown in Figure 10, has been developed based commercial off-the-shelf (COTS) multi-core CPU. It has been verified successfully in the International Space Station (ISS) on May 17 – November 30, 2017.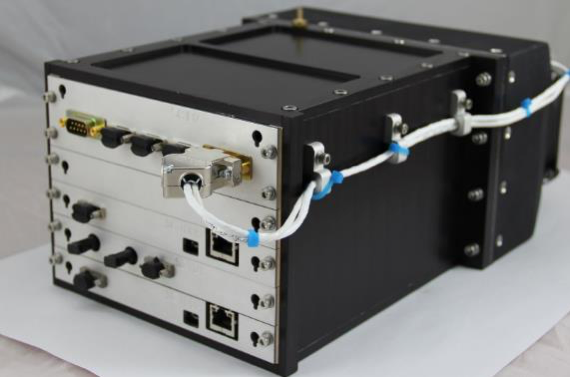 Radiation qualification tests
We continue to organize radiation qualification tests for COTS parts by using proton test facilities, INER and CGMH, in Taiwan. This work includes the development of detector for beam tests, the preparation of test plan and procedure and the analysis of test results. Figure 11 shows the radiation test in CGMH, Taiwan.